The 7 Dancer Recipes We're Making for Thanksgiving This Year
Dancers often make the best chefs. Photo by Quinn Wharton
Tired of the typical turkey and stuffing? For Thanksgiving this year, try something different with these personal recipes that dancers have shared with Dance Magazine. The ingredients are packed with dancer-friendly nutrients to help you recover from rehearsals and fuel up for the holiday performances ahead.

If anyone raises an eyebrow at your unconventional choices, just remind them that dancers are allowed to take some artistic license!
---
To Start: Veggie Borscht, from Hubbard Street's Kevin J. Shannon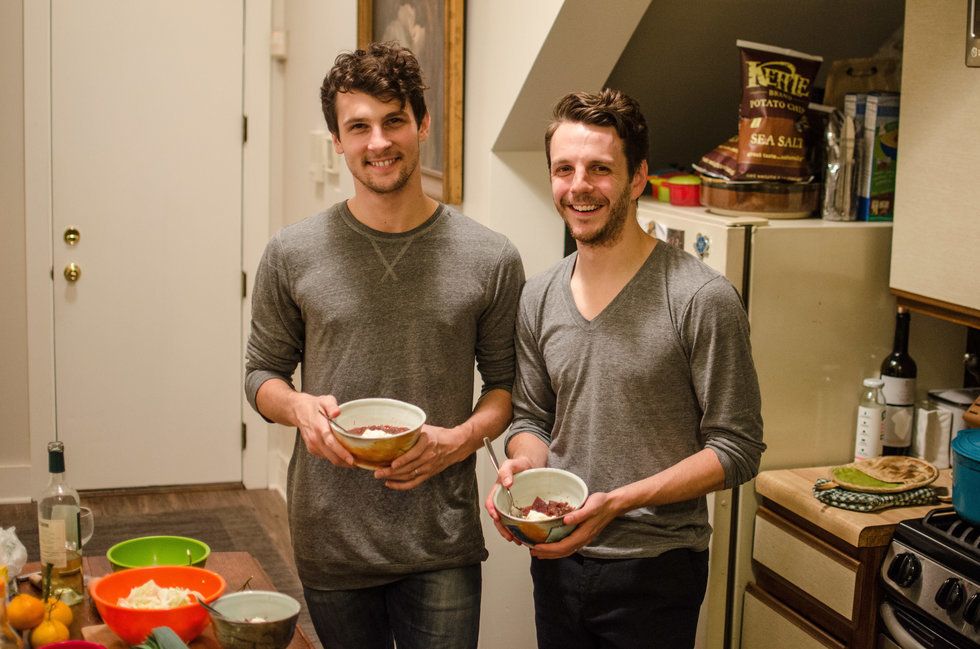 Black (left) and Shannon (right) cook show off their homemade borscht. Photo by Greg Birman.
For Hubbard Street Dance Chicago's Kevin J. Shannon and his husband, fellow company dancer Craig D. Black Jr., cooking is a way to relax together after a busy day in the studio—often accompanied by a bottle of wine they've picked up somewhere on tour.

Shannon loves using vegetables they've grown in their backyard garden to cook up this vitamin-packed and vegetarian-friendly borscht.
Ingredients:
2 tbsps. vegetable oil
1 medium yellow onion (diced)
1 leek, top and bottom removed (diced)
4 medium beets (peeled and thinly sliced)
3–4 carrots (peeled and chopped)
3–4 parsnips (peeled and chopped)
2 tbsps. white vinegar
salt and pepper
48 oz. beef, chicken or vegetable broth (if you're keeping it vegetarian)
1 small/medium head of cabbage (halved and chopped)
sour cream or yogurt
pinch of dill and splash of lemon juice (optional)
Directions:

Heat oil in medium-sized pot over medium heat. Add onion and leek. Cook for 5 minutes or until soft.
Add beets, carrots and parsnips. Cook another 5 minutes. Add vinegar. Sprinkle salt and pepper.
Cook until beets are soft, about 10 minutes. Add broth. Lower heat to medium-low and cook for 15–20 minutes, then add cabbage.
Cook another 20 minutes.
Garnish each serving with a dollop of sour cream or yogurt. Add optional dill or lemon juice to taste. Serves 6–8.
For Protein: Jamaican Curry Chicken from ABT's Erica Lall
If you're like us and prefer chicken over turkey—particularly if it's got lots of flavor—try American Ballet Theatre corps member Erica Lall's family recipe for Jamaican Curry Chicken.

Ingredients:
1–2 small potatoes, cubed
2–3 cloves of garlic, minced
1 small yellow onion, chopped
4–6 chicken thighs, skinless and boneless
Lawry's seasoning salt
1 tsp. Jamaican curry powder
1 tsp. jerk seasoning
2 tsp. ketchup
dried thyme
coconut milk (about 1/4 can for 4 thighs)
Directions:
Rinse chicken and place in glass baking dish.
Sprinkle seasoning salt, curry powder (about a full tsp. for four thighs or enough to color all sides of meat a bright yellow).
Add 1 heaping tsp. of jerk seasoning, or a little more for more fire.
Add ketchup.
Mix to evenly coat all surfaces.
Mix in onion, thyme, coconut milk and potatoes.
Cover with foil and marinate in fridge for one hour.
Bake at 375˚F for one hour.
Serve over steamed Basmati rice.
As a Side: Prosciutto Pasta from The Royal's Beatriz Stix-Brunell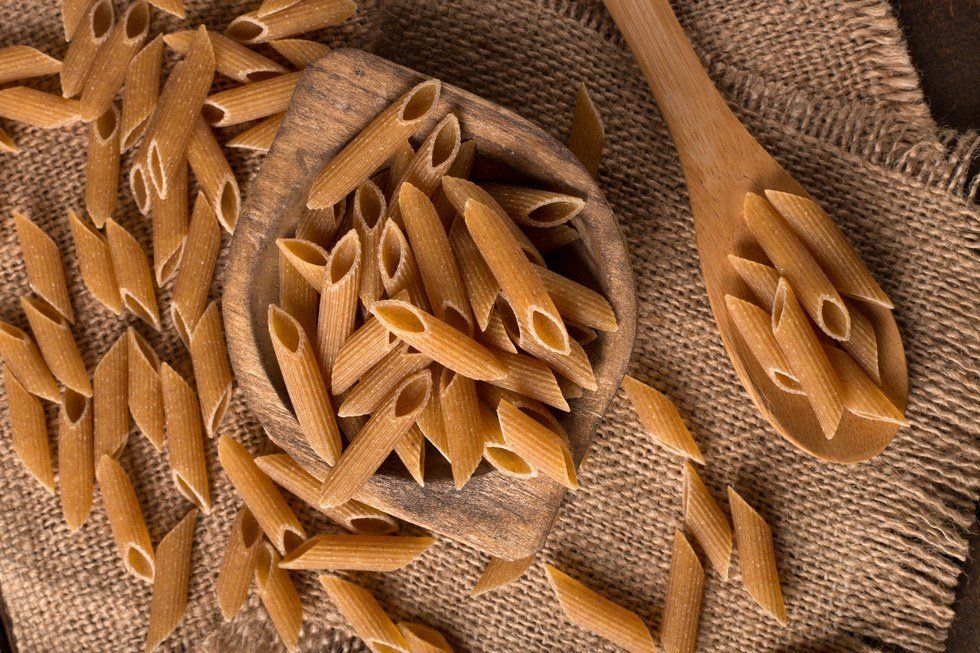 Whole wheat pasta can be a great source of healthy carbs. Courtesy Getty Images
Full disclosure: This pasta recipe from The Royal Ballet first soloist Beatriz Stix-Brunell is a favorite among the Dance Magazine editors. It's super tasty, easy to make, and is filled with healthy carbs to get you ready for a marathon season of Nutcracker performances.

Stix-Brunell likes to eat it early in the day if she's got a performance—typically around 2 pm so her stomach isn't too full to dance. But a small serving can also make a great side dish that's sure to please even the pickiest of your relatives. If you want to amp up the nutrients, toss in extra veggies like mushrooms, onions or even sun-dried tomatoes.
Ingredients:
1 lb. whole-wheat penne
1/4 cup olive oil
6 slices prosciutto, chopped into small ribbons
1/2 cup Pecorino cheese
3 bunches arugula, chopped into large pieces
1 tbsp. black pepper, freshly ground
Directions:
Bring a large pot of salted water to boil.
Add pasta and cook until al dente (about 8 minutes).
While the pasta is cooking, heat a small, heavy-bottomed skillet over medium-high heat; add oil and prosciutto and cook until crispy, then remove pan from heat.
Drain pasta, but keep a little pasta water on the side.
Transfer penne to a large serving bowl, then add Pecorino and toss, gradually adding leftover water to loosen up the pasta as needed.
Add prosciutto, fresh arugula and black pepper. Toss well to combine.
To Sip: Nutcracker-Themed Drinks from Boston Ballet & The Joffrey Ballet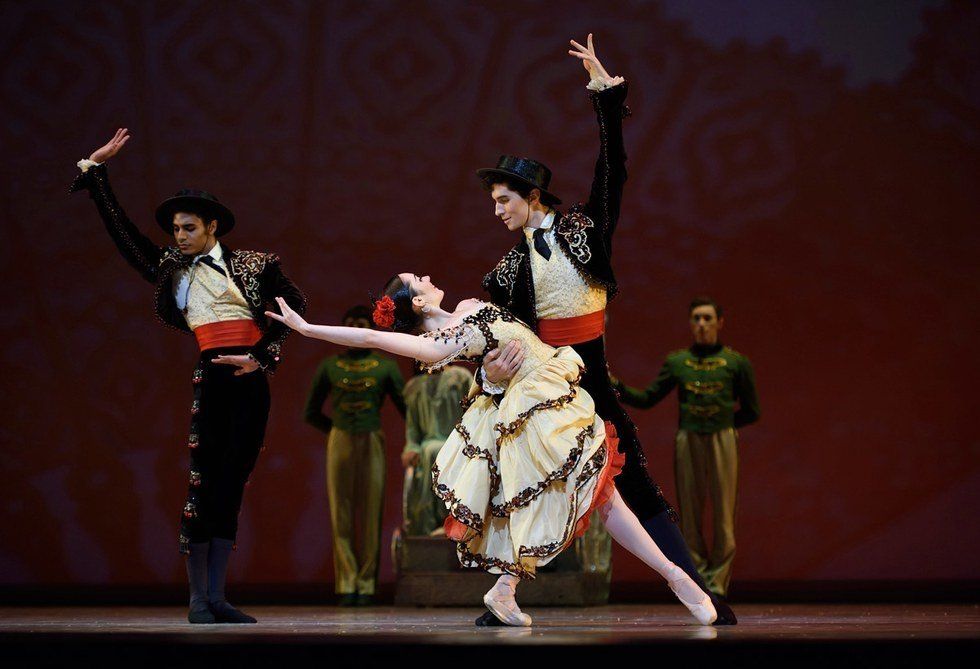 San Francisco Ballet performs the Spanish divertissement. Photo by Erik Tomasson.
In Dance Magazine's December 1990 issue, a number of dancers from Boston Ballet and The Joffrey Ballet sent us a whole list of Nutcracker-themed treats created by and for dancers. We love these simple drink options plucked straight out of the Land of the Sweets.

Russian Tea: Brew strong tea. Place 1 tsp. whole black cherry preserves or red plum preserves in a glass, and then fill glass with the tea.
Frothy Spanish Cocoa: Whip cocoa powder and hot low-fat milk in a blender. Garnish with a zest of orange, cinnamon or a toasted marshmallow.
Fragrant Arabian Coffee: Brew strong coffee. Crush four cardamom seeds in a cup and add zest of lemon before pouring coffee into it.
For Dessert: Pumpkin Cake from Rockette Sarah Staker
Sarah Staker (center), with fellow baker Rockettes Katelyn Gaffney and Christine Sienicki. Photo by Angela Cranford/MSG Photos, courtesy MSG.
Sarah Staker, a Rockette since 2010, loves to bring her great-grandma's pumpkin cake into the dressing room the day after Thanksgiving. "We can use the sugar and carb boost. Plus, it makes me feel like I have a piece of home with me no matter where I'm celebrating the holidays."
Ingredients:
Cake:
4 eggs
2 cups sugar
1 cup vegetable oil
2 cups flour (not sifted)
1 tsp. baking soda
2 tsp. cinnamon
1/2 tsp. salt
2 cups canned pumpkin
1 tsp. vanilla
Icing:
8 oz. cream cheese
1 stick of butter
4 cups confectioner's sugar
1 tsp. vanilla
Directions
Preheat oven to 350˚F.
In a large bowl, combine the eggs and sugar; beat well.
Add oil, flour, baking soda, cinnamon, salt, pumpkin and vanilla; beat well.
Pour in a 13x9-inch pan and bake for 25 to 30 minutes. Test with a toothpick.
For the icing, beat softened cream cheese and butter, add sugar and blend until smooth. Mix in vanilla.
Let cake cool completely before spreading icing. Chill until serving.
A flyer showing Alberto Alonso, Fernando Alonso, Benjamin Steinberg and Alicia Alonso. Photo courtesy the author
Alicia has died. I walked around my apartment feeling her spirit, but knowing something had changed utterly.
My father, the late conductor Benjamin Steinberg, was the first music director of the Ballet de Cuba, as it was called then. I grew up in Vedado on la Calle 1ra y doce in a building called Vista al Mar. My family lived there from 1959 to 1963. My days were filled with watching Alicia teach class, rehearse and dance. She was everything: hilarious, serious, dramatic, passionate and elegiac. You lost yourself and found yourself when you loved her.
Keep reading...
Show less
Left: Hurricane Harvey damage in Houston Ballet's Dance Lab; Courtesy Harlequin. Right: The Dance Lab pre-Harvey; Nic Lehoux, Courtesy Houston Ballet.
"The show must go on" may be a platitude we use to get through everything from costume malfunctions to stormy moods. But when it came to overcoming a literal hurricane, Houston Ballet was buoyed by this mantra to go from devastated to dancing in a matter of weeks—with the help of Harlequin Floors, Houston Ballet's longstanding partner who sprang into action to build new floors in record time.
Keep reading...
Show less
Hansuke Yamamoto in Helgi Tomasson's Nutcracker at San Francisco Ballet, which features an exciting and respectful Chinese divertissement. Photo by Erik Tomasson, Courtesy SFB
It's Nutcracker time again: the season of sweet delights and a sparkling good time—if we're able to ignore the sour taste left behind by the outdated racial stereotypes so often portrayed in the second act.
In 2017, as a result of a growing list of letters from audience members, to New York City Ballet's ballet master in chief Peter Martins reached out to us asking for assistance on how to modify the elements of Chinese caricature in George Balanchine's The Nutcracker. Following that conversation, we founded the Final Bow for Yellowface pledge that states, "I love ballet as an art form, and acknowledge that to achieve a diversity amongst our artists, audiences, donors, students, volunteers, and staff, I am committed to eliminating outdated and offensive stereotypes of Asians (Yellowface) on our stages."
Keep reading...
Show less
Allegra Bautista in Nevertheless, by ka·nei·see | collective. Photo by Robbie Sweeny
An audience member once emailed Dallas choreographer Joshua L. Peugh, claiming his work was vulgar. It complained that he shouldn't be pushing his agenda. As the artistic director of Dark Circles Contemporary Dance, Peugh's recent choreography largely deals with LGBTQ issues.
"I got angry when I saw that email, wrote my angry response, deleted it, and then went back and explained to him that that's exactly why I should be making those works," says Peugh.
With the current political climate as polarized as it is, many artists today feel compelled to use their work to speak out on issues they care deeply about. But touring with a message is not for the faint of heart. From considerations about how to market the work to concerns about safety, touring to cities where, in general, that message may not be so welcome, requires companies to figure out how they'll respond to opposition.
Keep reading...
Show less