Dance Magazine Award Honoree: Marika Molnar
Marika Molnar working with Ana Sophia Scheller. Photo by Rachel Papo for Dance Teacher
Since George Balanchine first asked her to care for his dancers in the 1980s, Marika Molnar has helped heal icons as varied as Merce Cunningham, Trisha Brown, Natalia Makarova, Judith Jamison, Twyla Tharp, Chita Rivera and Mikhail Baryshnikov. Some patients call her their guardian angel.
"Marika has always answered all my (sometimes ridiculous) questions with the patience and respect that can only come from a deep love of us patients and what we do," says New York City Ballet principal Ashley Bouder. "Without her help during and after my pregnancy, I would never have been able to come back to the stage at full capacity."
---
Molnar's extensive expertise, genuine love for the art form and relentless ambition to make life better for dancers, make her one of the most respected professionals in her field. Sometimes known as the mother of dance medicine, she witnessed its birth: When Balanchine first asked her to become the physical therapist for NYCB, it was unheard of for an American ballet company to have a PT on staff. Today, she oversees a whole team of them as the director of physical therapy services to NYCB and its School of American Ballet, as well as the founder and president of Westside Dance Physical Therapy.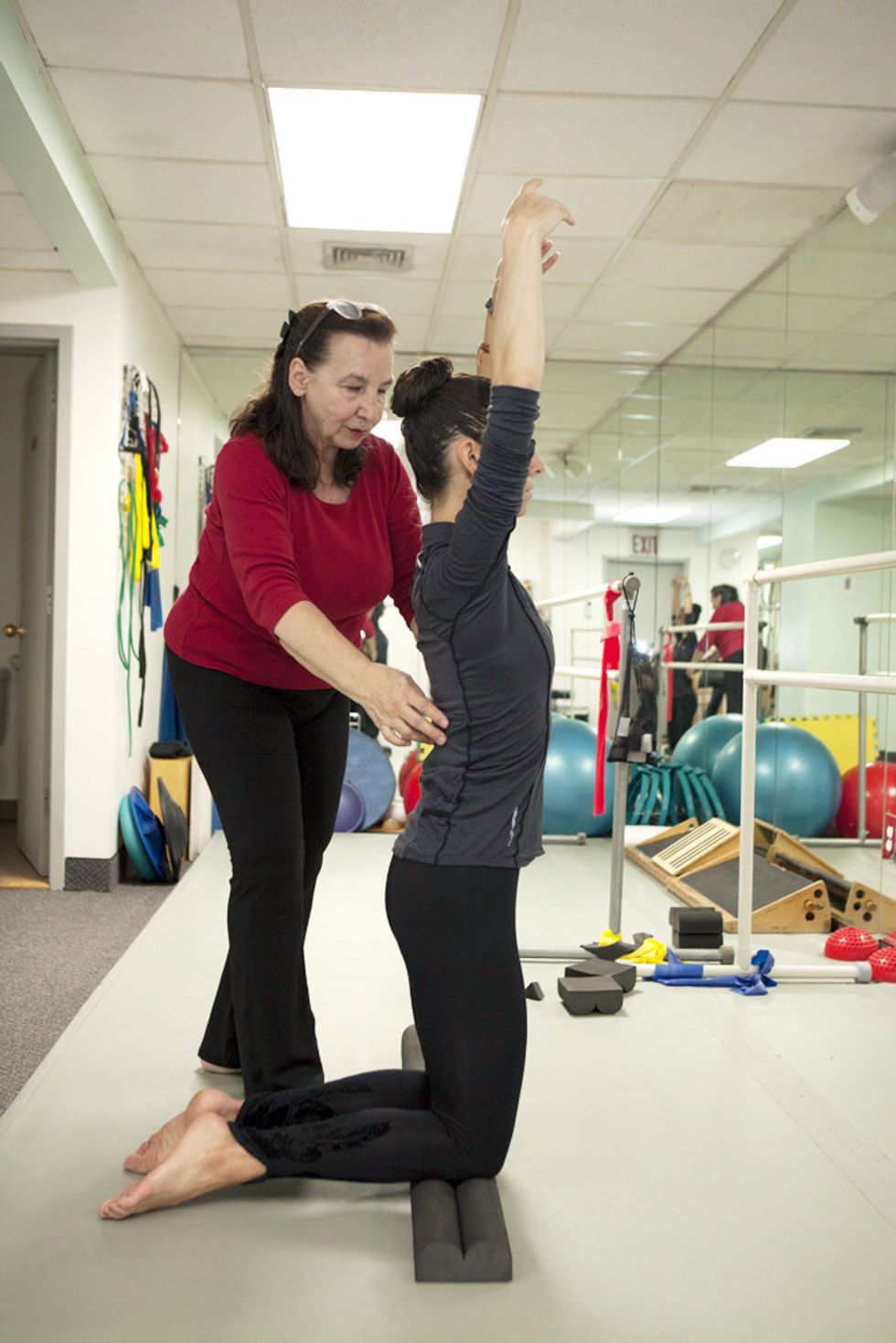 Marika Molnar working with Ana Sophia Scheller. Photo by Rachel Papo for Dance Teacher
She's seen the culture mature since the '80s, when injuries were simply accepted as part of the professional terrain like a badge of honor. "Now dancers are taking care of themselves. Longevity is something they like," says Molnar. "Younger dancers strive to be healthy and older ones can finish their career and still move and demonstrate."
Molnar brings a wealth of knowledge to help them accomplish that, with her PT training from Columbia University, a master's degree in dance education from New York University, a certificate in nutrition from the Institute for Integrative Nutrition, training in acupuncture, and experience as a dance student and teacher. For her, it's not enough to be working in the office. "Observation is key," she insists. "I urge my peers to watch rehearsal and class. I learn so much from watching."
For example, when she saw that dancers were always gripping the floor with their toes, she had an aha moment about the frequency of flexor hallucis longus tendon injuries. She realized that standing with weight too forward never allows the tendon to rest. A little retraining to get dancers to put their weight on the center of the foot—with the help of a tool she invented, the Parasetter Mini—has made a remarkable reduction in FHL injuries at NYCB.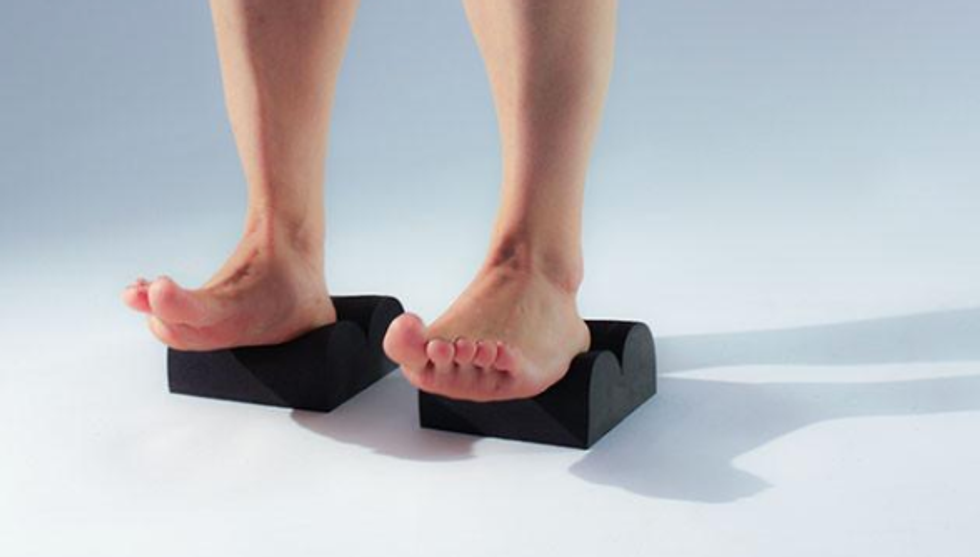 Molnar's Parasetter Minis. Photo via physicalmind.myshopify.com
Molnar realizes that her field is still young, but it's growing thanks to the work of the International Association of Dance Medicine & Science, where she has served as president, a board member and committee chair. Molnar is delighted that a number of her former patients have gone on to become physical therapists themselves, perpetuating knowledge in the field.
Molnar is grateful for two people in particular who helped her become a leader in dance medicine: "Orthopedic surgeon Dr. William Hamilton, my mentor all these years, and George Balanchine, who had confidence in my skills, allowing me to make New York City Ballet the first major ballet company in the U.S. to care for the health of its dancers. In a funny way, you could say that we three were the pioneers of the dance medicine of today."
For information about the Dance Magazine Awards ceremony on December 4, click here.
Related Articles Around the Web
Rehearsal of Yvonne Rainer's Parts of Some Sextets. Photo by Paula Court, Courtesy Performa.
Yvonne Rainer's Parts of Some Sextets (AKA "the mattress dance") hasn't been revived since it premiered in 1965. Nor has Rainer had any wish to do it again, to ask performers to heave 10 mattresses around while carrying out 31 tasks that changed every 30 seconds. It was an unwieldy, difficult dance. (Even the title is unwieldy.) But Emily Coates, who has danced in Rainer's work for 20 years, became curious about this piece and was determined to see it again—and to dance in it. She will get her wish November 15–17, when the mattress dance will be performed as part of the Performa 19 Biennial.
Keep reading...
Show less
Ailey II artistic director Troy Powell teaching an Ailey Workshop at NYCDA. Courtesy NYCDA
Back in 2011 when Joe Lanteri first approached Katie Langan, chair of Marymount Manhattan College's dance department, about getting involved with New York City Dance Alliance, she was skeptical about the convention/competition world.
"But I was pleasantly surprised by the enormity of talent that was there," she says. "His goal was to start scholarship opportunities, and I said okay, I'm in."
Today, it's fair to say that Lanteri has far surpassed his goal of creating scholarship opportunities. But NYCDA has done so much more, bridging the gap between the convention world and the professional world by forging a wealth of partnerships with dance institutions from Marymount to The Ailey School to Complexions Contemporary Ballet and many more. There's a reason these companies and schools—some of whom otherwise may not see themselves as aligned with the convention/competition world—keep deepening their relationships with NYCDA.
Now, college scholarships are just one of many ways NYCDA has gone beyond the typical weekend-long convention experience and created life-changing opportunities for students. We rounded up some of the most notable ones:
Keep reading...
Show less
Left: Hurricane Harvey damage in Houston Ballet's Dance Lab; Courtesy Harlequin. Right: The Dance Lab pre-Harvey; Nic Lehoux, Courtesy Houston Ballet.
"The show must go on" may be a platitude we use to get through everything from costume malfunctions to stormy moods. But when it came to overcoming a literal hurricane, Houston Ballet was buoyed by this mantra to go from devastated to dancing in a matter of weeks—with the help of Harlequin Floors, Houston Ballet's longstanding partner who sprang into action to build new floors in record time.
Keep reading...
Show less