Dance Magazine Award Honoree: Marika Molnar
Marika Molnar working with Ana Sophia Scheller. Photo by Rachel Papo for Dance Teacher
Since George Balanchine first asked her to care for his dancers in the 1980s, Marika Molnar has helped heal icons as varied as Merce Cunningham, Trisha Brown, Natalia Makarova, Judith Jamison, Twyla Tharp, Chita Rivera and Mikhail Baryshnikov. Some patients call her their guardian angel.
"Marika has always answered all my (sometimes ridiculous) questions with the patience and respect that can only come from a deep love of us patients and what we do," says New York City Ballet principal Ashley Bouder. "Without her help during and after my pregnancy, I would never have been able to come back to the stage at full capacity."
---
Molnar's extensive expertise, genuine love for the art form and relentless ambition to make life better for dancers, make her one of the most respected professionals in her field. Sometimes known as the mother of dance medicine, she witnessed its birth: When Balanchine first asked her to become the physical therapist for NYCB, it was unheard of for an American ballet company to have a PT on staff. Today, she oversees a whole team of them as the director of physical therapy services to NYCB and its School of American Ballet, as well as the founder and president of Westside Dance Physical Therapy.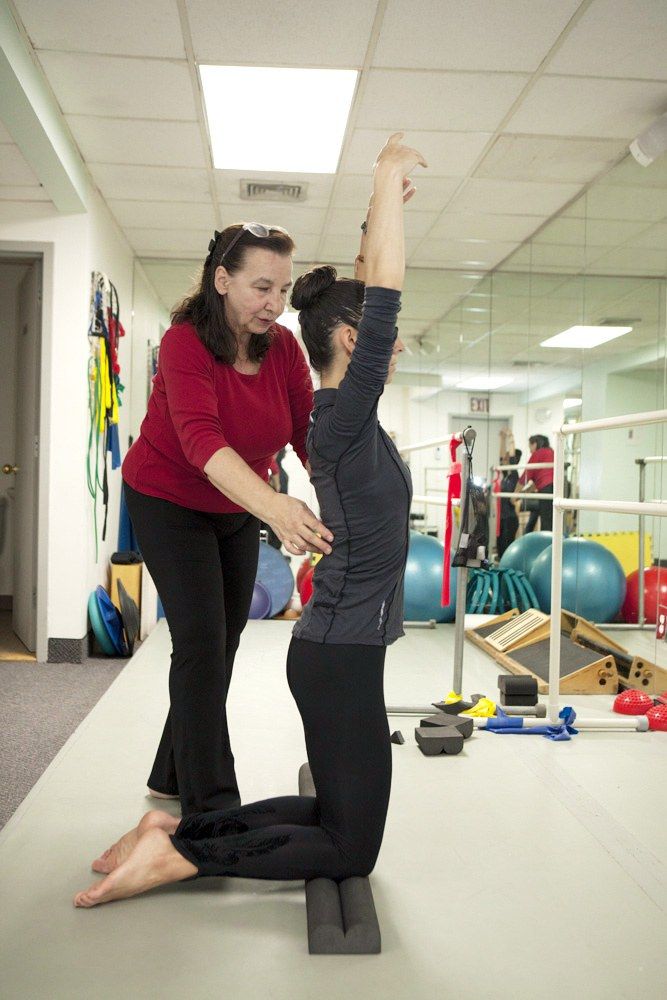 Marika Molnar working with Ana Sophia Scheller. Photo by Rachel Papo for Dance Teacher
She's seen the culture mature since the '80s, when injuries were simply accepted as part of the professional terrain like a badge of honor. "Now dancers are taking care of themselves. Longevity is something they like," says Molnar. "Younger dancers strive to be healthy and older ones can finish their career and still move and demonstrate."
Molnar brings a wealth of knowledge to help them accomplish that, with her PT training from Columbia University, a master's degree in dance education from New York University, a certificate in nutrition from the Institute for Integrative Nutrition, training in acupuncture, and experience as a dance student and teacher. For her, it's not enough to be working in the office. "Observation is key," she insists. "I urge my peers to watch rehearsal and class. I learn so much from watching."
For example, when she saw that dancers were always gripping the floor with their toes, she had an aha moment about the frequency of flexor hallucis longus tendon injuries. She realized that standing with weight too forward never allows the tendon to rest. A little retraining to get dancers to put their weight on the center of the foot—with the help of a tool she invented, the Parasetter Mini—has made a remarkable reduction in FHL injuries at NYCB.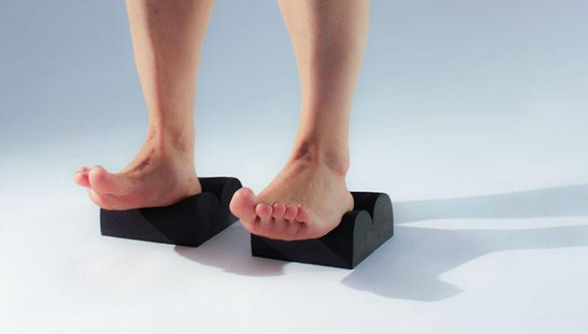 Molnar's Parasetter Minis. Photo via physicalmind.myshopify.com
Molnar realizes that her field is still young, but it's growing thanks to the work of the International Association of Dance Medicine & Science, where she has served as president, a board member and committee chair. Molnar is delighted that a number of her former patients have gone on to become physical therapists themselves, perpetuating knowledge in the field.
Molnar is grateful for two people in particular who helped her become a leader in dance medicine: "Orthopedic surgeon Dr. William Hamilton, my mentor all these years, and George Balanchine, who had confidence in my skills, allowing me to make New York City Ballet the first major ballet company in the U.S. to care for the health of its dancers. In a funny way, you could say that we three were the pioneers of the dance medicine of today."
For information about the Dance Magazine Awards ceremony on December 4, click here.
Related Articles Around the Web
From Your Site Articles
Just for Fun
Jul. 16, 2019 02:13PM EST
As Dance Magazine editors, we admittedly spend more time than we'd like sifting through stock photography. Some of it is good, more of it is bad and most of it is just plain awkward.
But when paired with the right caption, those shots magically transform from head-scratchers to meme-worthy images that illustrate our singular experience as dancers. You can thank the internet for this special salute to dancer moods.
Keep reading...
Show less
Wayne McGregor. Photo by Johan Persson, Courtesy ROH
It's no surprise that dancers make some of the best TED Talk presenters. Not only are they great performers, but they've got unique knowledge to share. And they can dance!
If you're in need of a midweek boost, look no further than these eight presentations from some incredibly inspiring dance artists.
Keep reading...
Show less
News
Jul. 16, 2019 03:58PM EST
Including this extraordinary Travis Wall number for "So You Think You Can Dance" (Adam Rose/FOX)
The Primetime Emmy Award nominations are out! Congrats to the seven choreographers who earned nods for their exceptional TV work this year. Notably, that work was made for just two shows, "So You Think You Can Dance" and "World of Dance."
And there was a particularly remarkable snub: While the dance-filled hit "Fosse/Verdon" earned 17 nominations across many of the major categories, Andy Blankenbuehler's fabulous Fosse remixes weren't recognized in the Outstanding Choreography field.
Here are all the dance routines up for Emmys:
Keep reading...
Show less

abezikus/Getty Images
"Dancers can do everything these days," I announced to whoever was in earshot at the Jacob's Pillow Archives during a recent summer. I had just been dazzled by footage of a ballet dancer performing hip hop, remarkably well. But my very next thought was, What if that isn't always a good thing? What if what one can't do is the very thing that lends character?
Keep reading...
Show less